Graham Reid | | <1 min read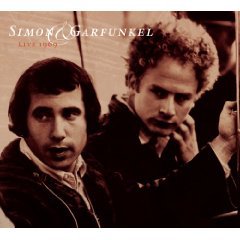 They certainly don't look like this these days (but who does look like their 40 year old photos?) but it isn't impossible that in concert they will sound sufficiently similar, maybe just pitched down an octave or so.
Back in '69 when the songs on this album were recorded during their last tour together for well over a decade, the hit-machine that was Paul Simon and Art Garfunkel had recorded but had yet to see the release their masterwork, Bridge Over Troubled Waters.
So while this 17-track selection (originally released through Starbucks I believe) obviously favours material like Homeward Bound, Mrs Robinson, The Sound of Silence and so on they do manage to drop in some Troubled Waters songs, notably the title track which fairly soars.
Of real interest too is that on this short tour they had a supporting band which included drummer Hal Blaine and keyboardist Larry Knetchel.
Although this will doubtless act as some kind of concert memento after they have played in New Zealand it also stands as crisp snapshot of a couple of musicians at the height of their creative powers and career together.
Intelligent and thoughtful folk from the period just before the flower-power/optimistic world came crashing down with Altamont and the arrest of Charlie Manson.