Graham Reid | | 2 min read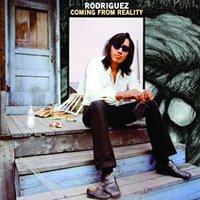 Seventies cult singer-songwriter Rodriguez appeared at Elsewhere when his terrific debut Cold Fact got a long overdue reissue. He's the kind of person you know and love, or simply don't get at all.
Oddly enough he was "got" in South Africa and Australia back in the day, although his two albums -- Cold Fact and Coming From Reality -- virtually died in the States.
After the stoned groover and cynical mood of Cold Fact, Sixto Rodriguez from Detroit went to London to record the follow-up with producer/fan Steve Rowland who'd recorded the Pretty Things, the Herd which featured a young Peter Frampton, and a few others.
Rowland called up star guitarist Chris Spedding and other top session players who could provide the different and sometimes slightly jazzy, loose but stinging context for Rodriguez's lyrics which were mostly straight out of Dylan in his allusive and alliterated, slightly sneering Blonde on Blonde period: "playboy Ralph whose always been shorter than himself . . . a teacher that will kiss you in French"; "hospitals for flowers, the matron ladies cry, itchy trigger fingers as our caravan walks by . . ."; "Volume left Bohemia, a triangle for his thumb, questions fell but no one stopped to listen, that eternity was just a dawn away . . ."
You get the picture: archly poetic, sometimes iron-hard images which are memorable, at other times just nonsense.
There's also a large stab at MOR acceptance on the acoustic, string-coloured I Think of You which could have come from the soundtrack to a romantic-weeper movie if it had been sung by Andy Williams. The also-orchestrated Silver Words ("if only you could see, the change you've made in me") could be vapid Don McLean, unfortunately.
Sandrevan Lullaby-Lifestyles opens as an almost pastoral piece with cello before Rodriguez takes into his typically acoustic folk style ("judges with metermaid hearts, order supermarket justice starts").
Nice, but they hardly fit with A Most Disgusting Song which opens with the weary, spoken word lines "I've played every kind of gig there is to play now, I've played faggot bars, hooker bars, motorcycle funerals, in opera house, concert halls, halfway houses . . ." Or the blistering opener Climb Up On My Music which is propelled by Spedding who fires staccato electric guitar across it.
There are moments when this almost reaches the heights of Cold Fact, but you sense that producer Rowland, who rightly took Rodriguez seriously, perhaps over-embellished the music (in an attempt to get it accepted perhaps?) but it ended up in an area where the artist sounded constrained.
Rodriguez had a socio-political agenda behind the slightly addled poetics, and that is lost too often.
Anyone who loved Cold Fact (and really, you just gotta love it) would find something in this -- but Rod's softer side is too sweetened and this really only hits its stride in the more rocking and jazzist arrangements.
Still, he is Rodriguez -- and there is no other.
PS: The three "previously unreleased" tracks Can't Get Away, Street Boy and I'll Slip Away appear on my battered vinyl copy of Rodriguez: At His Best from 1977. Sorry to be picky.