Graham Reid | | 1 min read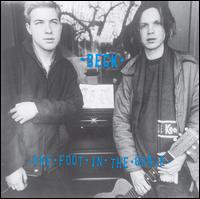 For a very brief period in the early Nineties Beck was hailed as the Dylan of his generation (another in the "new Dylan" lineage which began back with Donovan, Loudon Wainwright III etc in the mid Sixties) and it was because of music like this from '94, an indie album which was recorded before Mellow Gold but released after the success of that album.
Its (release) position between Mellow Gold and Odelay -- between the "slacker anthem" Loser on the former and the more diverse and sophisticated sound of Devil's Haircut, The New Pollution and Where It's At on the latter -- meant it was bound to gain attention, even if only in retrospect when people clicked the guy was no one-hit wonder.
But if you come to Beck on the back of Odelay or even his later albums like the exceptionally diverse Mutations (my favourite) then you are bound to be bewildered. This is Beck in lo-fi, slow-mo acoustic mode with some staggering, yawping songs and discordant suggestions of rural blues.
Ziplock Bag would have sounded weird on Tom Waits' most bizarre and challenging album. It was closer to Captain Beefheart than anything else around at the time.
But there was also some plain folk music here alongside his rejigged cover of Skip James' He's A Mighty Good Leader, Girl Dreams which owes a debt to the Carter Family's Girl of My Dreams, and a few songs and fragments which would appear in different versions or as substantial revisions on his later albums. Damned if I can remember what Sleeping Bag became, but it's on the tip of my tongue.
Some of it just studio silliness (Burnt Orange Peel) but much of it confirmed that here was a guy who had a lot of arrows in his quiver. He could just as readily pull out something of quiet beauty (the weary folk-blues of Hollow Log and the authentic rural slide of Fourteen Rivers Fourteen Floods which sounds beamed in from the Delta in the Thirties) as something of emotional intensity (Asshole which Tom Petty covered pretty well for the soundtrack to She's The One)
He was accomplished at Woody Guthrie-styled folk (I've Seen the Land Beyond) and disconcerting alt.rock (Outcome).
The album has been given a substantial reissue on Beck's own label. Now the 16 original tracks come with the same number again of previously unreleased songs and remixed versions (droll jangle rock on Whiskey Can Can to plenty of Dylanesque folk-rock and post-grunge folk on Teenage Wastebasket) which is a measure of how productive he was at this time and, with 32 songs on a single disc, just how short -- nine under two minutes -- some of his songs were.
Yes, some things here sound like working drawings (with the confidence of a Picasso line drawing however) but you cannot help but be impressed by it over the long haul.