Graham Reid | | <1 min read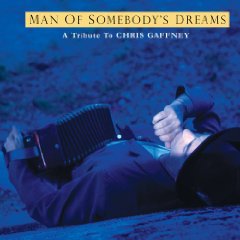 The late Chris Gaffney was not only a member of the justifiably acclaimed Hacienda Brothers (whose albums What's Wrong With Right? and Arizona Motel have been Elsewhere favourites), but he was a gifted songwriter who could write across many Americana idioms from country to norteno polka, rock'n'roll to soulful r'n'b.
He also made a lot of friends as he toured relentlessly, among them Dave Alvin who here gathers a stellar cast as a tribute to his fallen comrade. Among those lining up to play his songs here are Joe Ely, Boz Scaggs, Los Lobos, Peter Case, Tom Russell, Freddy Fender, Calexico, the Iguanas, James McMurtry, Dan Penn, Alejandro Escovedo, John Doe, Robbie Fulks . . . . Pretty much everybody who is anybody in the Elsewhere/Americana/alt.country world in fact.
That may tell you all you need to know, other than if you've never heard of Gaffney then here is the persuasive evidence of his songwriting as each of those very different artists finds a way into a Gaffney song in which their own voice sounds at home.
The final two tracks -- the aching I'm So Proud by Dan Penn and Gaffney himself with Guitars of My Dead Friends -- are so woobly in the vocal department that they could sound almost laughable, but they are in fact further proof that it ain't how you sing it's the way how you sing it. They sang from the heart not the throat.
From Tex-Mex to white boy soul, Chris Gaffney (1950-2008) commanded a lot of territory.