Graham Reid | | 2 min read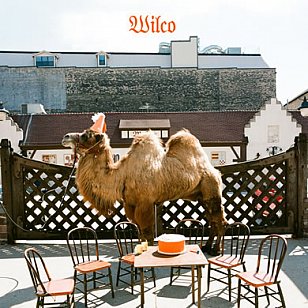 While no one would suggest that Wilco's Jeff Tweedy is on happy pills -- the glum Country Disappeared and Bull Black Nova here would deny that -- he is clearly a very different man than he was around the time of Yankee Hotel Foxtrot.
The chunky rockist opener on this seventh studio album -- yes, it is called "Wilco (the album)" -- is Wilco (the song) and asks the listener "do you dabble in depression, is someone twisting the knife . . . you need to know, Wilco will love you". And it doesn't sound even remotely cynical as they offer a "sonic shoulder for you to cry on".
And later on the poppy You Never Know which owes a delicious debt to George Harrison with its effortlessly rising chorus, backing harmonies and swooning slide guitar Tweedy says: "C'mon children, you're acting like children, every generation thinks it's the end of the world/thinks its the last/thinks it's the worst . . . there's a secret I can tell, there's a witch down a well . . . [but] I don't care anymore".
And yet he sounds like he does care, about enjoying life and just getting on with it. On the gentle, acoustic-framed You and I he and guest vocalist Feist sing as lovers happily not having to know everything about each, that's it's just fine like it is. On I'll Fight he recognises that there are some things worth defending.
The recent Ashes of American Flags film showed the band coming alive on stage but also reflective about the state of their nation, and those threads are evident here again also notably on the elegant, country-flavoured ballad Country Disappeared ("nothing's ever going to mean as much to me").
Some of this album was sketched out and rehearsed at Neil Finn's Roundhead Studios and at Piha when some members, Tweedy included, were in Auckland for Finn's Seven Worlds Collide concerts, although it may be stretching the point to suggest that a summery vibe imbues this music.
There is the typically Wilco melancholy in abundance (they did start and end in Chicago after all) and the dark Bull Black Nova is delivered over a stabbing piano figure. And in places guitar Nels Cline peels of abrasive licks which give the music some edge.
This may not be the best Wilco album in their long and diverse career and it lacks the requisite classic-killer tracks.
But on repeat plays its lightness is infectious and the dramatic Everlasting Everything which closes the album is the perfect book-end to that opener: half-hymnal and half-embellished rock while meditating on the fact that although all (material) things must past some things like love last forever.

Nice.
Oh, and does Wilco (the album) boast among the best uses of an animal on an album cover since this by Storm Thorgerson (right) for Pink Floyd's Atom Heart Mother?