Graham Reid | | <1 min read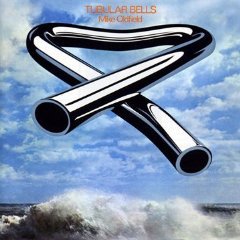 For some reason I largely missed the Tubular Bells phenomenon back in '73 when the album was orginally released and launched the careers of 19 year old multi-instrumentalist Mike Oldfield and Richard Branson (on whose Virgin label it originally came out).
I caught the famous little bit when it was used in The Exorcist, but even when the album was released on CD I missed it again.
It wasn't until 1998 when I got a copy of the remastered 25th anniversary edition that I finally heard this ground-breaking album in its entirety -- and I wondered what all the fuss had been about.
In '98 it really sounded like a period piece: meandering, head nod music for that generation of post-Beatles people who came from an academic background rather than a rock'n'roll one.
Times have changed again and in 2009 this version which Oldfield has remixed (at his home in Bahamas I believe) sounds a little more interesting than it might have just a few years back.
No, it isn't rock'n'roll and I'm sure if you have a copy of the original (or one of the CD reissues) then you perhaps won't need this. If however this was Your Album then here it is all over again sounding wide screen and fresh.
If it Really Really Was Your Album you might like to know there is also a three CD version of this out there in the cosmos.
Knock yourself out!