Graham Reid | | <1 min read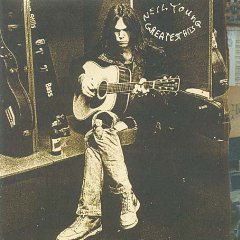 After the indifferent Fork in the Road and the Archives Vol 1 collection you could hardly suggest that there hasn't been enough Neil Young released this year. But this re-presented, remastering of an '04 collection might just pushing things to a limit: most fans would have these songs (if not a few times) and even latter day casual listeners would likely have a number of them (a complaint levelled at the Archives volume also).
The selection is based on original record sales, airplay and known downloads so this traverses very familiar (and mostly late Sixties/Seventies) material: Cowgirl in the Sand, Helpless, After the Goldrush, Ohio, The Needle and the Damage Done, Old Man, Heart of Gold, Hurricane, Hey Hey My My and so on.
Product. Here if you want it.
Buy a copy for a young person, perhaps?