Graham Reid | | <1 min read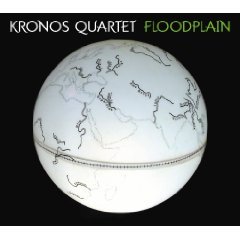 For more than 30 years the Kronos Quartet have been innovators, rarely looking back or playing pieces more than a few times, always on the lookout for contemporary material and daring projects.
They have recorded with John Zorn and Allen Ginsberg, played material by Jimi Hendrix, Terry Riley, the remarkable Inuit singer Tagaq, Harry Partch, Sigur Ros, Astor Piazzolla and Philip Glass, and drawn on music from India, Africa and South America.
Theirs is an extraordinary catalogue of work (they commission all the time and played Jack Body's music when they appeared in New Zealand many decades ago) and yet even now they are still managing to surprise.
For this outing they play music from the Middle East to India (a seven minute raga by Ram Narayan) and Ethiopia. There are guest vocalists Alim and Fargana Qasimov from Azerbaijan on the dramatic Getme Getme recorded live at the Barbican, and the closer is a 21 minute treatment of Hold Me Neighbour In This Storm by the Serbian composer Aleksanda Vrebalov.
This is thrilling music which springs to life right from the opener (Ya Habibi Ta'ala, a Middle Eastern tango which was a pop hit in the Forties) through Tashweesh written by the Palestinian collective Ramallah Underground and the thumping and staccato Oh Mother which uses a sample from an Iraqi song.
Exciting and exceptional, even by Kronos' high threshold.