Graham Reid | | <1 min read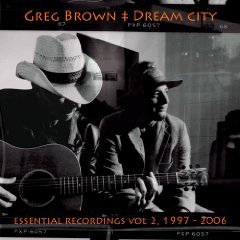 This extraordinary singer-songwriter-poet appeared at Elsewhere previously with his much recommended Evening Call album although at the time I noted an excellent starting point if he was new to you was the compilation If I Had Known (which covered 1980-96) because it came with a DVD film of his life and work.
This double-disc collection picks up where that previous collection left off (16 tracks from half a dozen albums, four more unreleased songs including the 10-minute Christmas Song recorded live).
When added together the two make a fair overview of a vast talent which is nominally alt.country/Americana but also keeps one ear on rural blues and (with guitarists Bo Ramsey or Kelly Joe Phelps) can sometimes reach for a more alt.rock corner.
A storyteller and poet by inclination, Greg Brown is one of the most respected, critically acclaimed and largely overlooked artists of the past couple of decades. Known to those he is known to, and not known outside of that small but selective circle.
Time to join the club?