Graham Reid | | 1 min read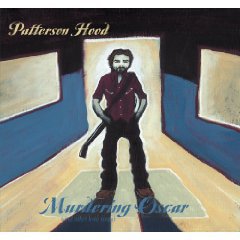 One of the mainmen in Elsewhere favourites Drive-By Truckers, Patterson Hood here weighs in with the second solo outing under his own name which stalks similar musical territory as the Truckers (alt.country, Stones-riffery, dark ballads) but takes an even more dense emotional turn in some places.
Many of the songs here -- as he explains in the interesting liner notes to each -- come from his notebook (Pollyanna from '91) -- and the birth of his daughter Ava has prompted some: not lullabies however but rather questions like "what does it mean to bring a child into the post 9-11 world?"
He juxtaposes emotional positions too: the riffery of I Understand Now about being happy and settled in a new house (and which has his Muscle Shoals sessionman dad David on bass) is uplifting but what follows is the downbeat, Wilco-like Screwtopia ("the perfect counter-balance . . . domestic tranquility was my worst fucking nightmare").
Then Grandaddy is a fiddle-coloured, finger pickin' love song to his daughter as he recalls a fond memory from his own childhood. The bleak Heavy and Hanging was prompted by Kurt Cobain's suicide and could have been an off-cut from Neil Young's Tonight's the Night. The spirit of Young haunts Walking Around Sense also, "the companion piece to heavy and Hanging".
There's a keen lyrical intelligence here (as expected) and with a number of Truckers in attendance, a cover of Todd Rundgren's The Range War (from his marvellous Something/Anything album) and the intensity of the emotions (up or down) married to fully realised music this collection of older songs, revisits and new material hangs together as a dark but compelling collection -- which admittedly will not be to everyone's taste.