Graham Reid | | 1 min read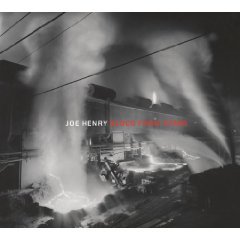 There is something pointless and not a little depressing writing about another fine Joe Henry album: the 18 people who love his work probably already know of the album, and as for the rest . . . ?
I guess Henry is always destined to remain something of a private passion, but it is one that Elsewhere would (again) like to share. His last album Civilians was a Best of Elswehere 2007 pick, and as a producer he has been behind albums at Elsewhere by the likes of Solomon Burke, Loudon Wainwright (Strange Weirdos, another Best of Elsewhere, in 2008), Ramblin' Jack Elliott, Rodney Crowell . . .
He started life in the alt.country arena (the Jayhawks backed him on his early albums) but moved gently into jazz (Ornette Coleman made a guest appearance on the Scar album in 2001), and latterly has explored blues and soul (a fellow traveller with Bettye LaVette, Allen Toussaint, Elvis Costello and Mavis Staples), and yet -- for a man who has been Madonna's brother-in-law for over two decades -- he maintains a low public profile. His albums are generally acclaimed by critics and go right past most people.
This one won't change that pattern: Henry has assimiliated soulful blues and old New Orleans jazz into his serious singer-songwiter style and again you may hear echoes of mid-period Tom Waits aongside the jazzy piano phrasing from Jason Moran, typically superb guitar from Marc Ribot (from flamenco flourishes to barbed wire blues) and his astonishingly mature 17-year old son Levon on saxophone, a standout among these players who demand a high threshold.
Opening with a gorgeous, solo piano ballad which sounds lifted from a melancholy movie of the Fifties, the 13 track album moves through dirty Nawlins funk (muted trumpet like Louis, woozy backbeat, Waits-like vocals), brooding alt.country over sonic soundbeds, acoustic ballads, strange off-mike sounds, a sax instrumental showcase for Levon, poetic meditations on life and weary blues . . .
So another damn fine Joe Henry outing (his 11th studio album) for those 18 aficionados -- who knew about already.

And for the rest . . . ?