Graham Reid | | <1 min read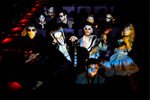 As with the Benka Boradovsky Bordello Band which also borrows from gypsy music, klezmer, flat-tack Russian folk and so on, this 4-track EP (actually just three, the 35 second thing at the start is just scene-setting) is mostly high on energy and enjoyment, but seems to be all over the place. In a good way if you are knocking back vodka slammers, I guess.
The addition of Sixties surf guitar also places it slightly closer to New Zealand's Surfing USSR (whose Surfadelic album of some years back is worth tracking down) and Israel's Boom Pam.
But as with the BBB Band you just get the feeling you have to be there, or be in the band, to get full enjoyment out of it.
This Russo/gypsy-rock thing has certainly got something going for it -- the ska-punk end as captured on the OST Club compilation and Russkaja albums deserved being played loud -- but Dr Colossus -- a large ensemble who recorded this in Neil Finn's Roundhouse Studio in Auckland -- would need to deliver more than three songs to really establish their point of difference. Which may be in the romantic ballads on the evidence of the cinematic and melodramatic Hajdak here.
If it's the surf guitars that would really work, they could certainly get a gig in Haifa with Boom Pam.