Graham Reid | | 1 min read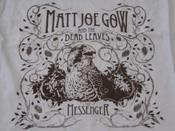 I especially like this line in Matt Joe Gow's bio: "Like most New Zealanders with any imagination, Matt soon found himself compelled to stray beyond the boundaries of his wonderful counmtry . . ."
Kind of a back-handed compliment there from an Australian, I guess.
Still, no artist should ever be held to their bio and this one was clearly written for international consumption because it points out that he came from Dunedin, "a town of impeccable musical pedigree (surely you've heard of the Flying Nun label . . .) " etc.
Gow may have come from there but his head is in purely in the Big Country (Australia or America) as on this sometimes quite thrilling debut album he delivers a committed alt.country Americana recorded in Melbourne (I think) with producer Nash Chambers who has done excellent work for his sister Kasey and her husband/musical partner Shane Nicholson. (Nash is also the son of country legend Bill Chambers).
So Gow too has an impeccable pedigree in his own way: a big fan of Steve Young, Townes Van Zandt, Gram Parsons, Wilco etc; a terrific road-tested band; hard-edged songs written over a period time which reflect the space of Australia (Midnight Oil's Jim Moginie and Bill Chambers help out); steel guitars and a backbeat . . .
If he falls for some lyrical cliches and a rather too familiar chord progression on ocassion I guess we can be forgiving and say it is early days. But when he hits his stride -- as on Land is Burning at the ragged-rock end or the follow-up Things Fall Apart as an aching ballad -- Gow serves notice that here is one Kiwi-Australian who can take on the best in the game as an equal. And he possesses a powerful and memorable voice.
Pretty impressive.