Graham Reid | | <1 min read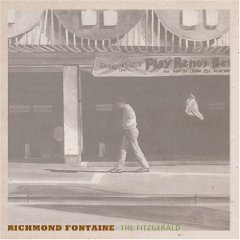 Richmond Fontaine come with big advance notices: the indie Americana band from Portland broke big with their rowdy Post to Wire album two years ago, which drew favourable comparisons with the Replacements, but for their follow-up, The Fitzgerald, they have turned the volume way down.
Written by guitarist Willy Vlautin while living at the Fitzgerald Casino in Reno, it is a collection of (mostly) acoustic songs of windswept melancholy and the marginal figures who hang around the less glitzy areas of such desert towns, and is shot through with Waitsean stories and characters sketched in with specific, telling detail.
An album of late night whisky-shot and stale-cigarette moods, delivered over strummed guitar and piano, peopled by those broken by the burdens of life and love, and set in an emotionally empty landscape of cinematic dimensions. And songs such as Exit 194B, about a house of memories, are heartbreaking.
Quietly terrific.