Graham Reid | | <1 min read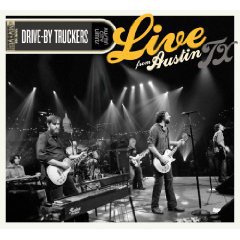 You would have thought live albums might have died out shortly after the arrival of MTV when people could finally see the bands whose albums they were hearing.
But no, live albums still come -- although the smart bands now combine a CD with a DVD, as do Drive By Truckers, a longtime Elsewhere favourite whose previous albums (and the recent solo outing by Patterson Hood, and that by Bettye LaVette where they have been her band) have always found a place here.
This hour-plus album (and the longer film of the same in 5.1 surround sound) was recorded for the Austin City Limits television show a year ago while they were out on their Brighter Than Creation's Dark album tour.
Not a lot to be said that hasn't been mentioned here before: at times they come off like a young Willie Nelson backed by a rock band, at others like Wilco's more country cousins, and elsewhere they shave off the best parts of the Rolling Stones' riffery (or their Gram Parsons-influenced country) for pure rock'n'roll/r'n'b country . . . . or call to mind the Replacements.
Great trajectory too which follows that path: from increasingly tough acoustic songs (Perfect Timing, Heathens, A Ghost to Most) towards the 11 minute shaggy-dog tale of 18 Wheels of Love (on the CD) and Let There Be Rock towards the end.
Fans will need this, casual listeners might find their way (via the DVD) into this group which many consider one of the best working bands in the business.