Graham Reid | | <1 min read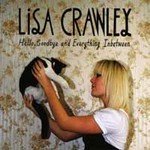 Crawley is something of a rising star in New Zealand music, but I doubt it is for the astonishingly dull openers on this five-song EP. Both Brother and Back to You sound like pallid songs written for a high school (possibly intermediate school) end-of-year production. And Crawley delivers them in such a li'l girl-cutesy way you wonder if she sucked her thumb between takes.
Much better are the more adult, slow ballad Good Lord (which has tasty pedal steel but a naff "wo-o-wo" bit) and These Friends of Mine (which loses it in the knees-up at the end) in which she reaches towards the kind of material and style Sharon O'Neill did many years ago (interestingly Crawley is part of the forthcoming Give It A Girl series alongside O'Neill).
Doubtless Crawley will deliver on the promise of the best bits here (and they are bits, aside from the closer Lost) but for now this is a calling card I am going to quietly put away.