Graham Reid | | <1 min read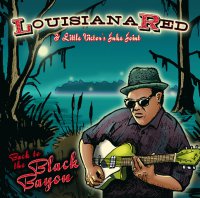 This seventysomething year old has earned to right to sing the blues: his father was lynched by the Klan back home in Alabama when he was boy; he was moved around staying with various relatives; played with John Lee Hooker for a while; has recorded for about as many blues labels as there are; lived in Europe for a while . . .
He's accumulated a lot of life experiences.
When the mood turns quieter or low he doesn't have the gravitas in his voice however, and so it is on the hard rockin' Chicago-styled blues (debts to Muddy, the Hook, Lightnin' Hopkins etc) where he is at his most persuasive and raw.
He writes convincingly in the manner of his mentors (maybe a bit too much like Muddy) but here, surrounded by some sharp and in-the-pocket but usefully ragged players he tears through his back-catalogue, whips out some blazing slide and sounds like he could shake the walls of any roadhouse, juke joint or bar.
Yes, he certainly owes more than a little debt to his predecessors, but on the night -- and on this one when it's turned up a bit -- you can forgive him that. He's part of a long lineage and even though not exactly extending it, he sits squarely in the frame.