Graham Reid | | 1 min read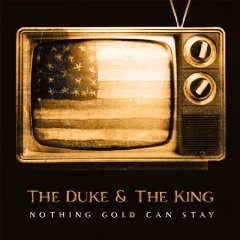 The singer-songwriter behind this gorgeously tuneful, lyrically probing debut is Simone Felice of the terrific Felice Brothers, two times Best of Elsewhere artists (2007, 2008) for their amalgam of ragged-but-right country which owed huge debts to the early Band and country-styled Bob Dylan, but who put their own stamp on proceedings.
The songwriter/drummer has left the band and teamed up with Robert Chicken Burke (never heard of him) to become this outfit which looks to a more melodic period in American country-rock history, that of the early Seventies. But while songs here have as much unashamed tunefulness as say Bread or America, Felice writes material with titles like If You Ever Get Famous, The Morning I Get to Hell, I've Been Bad and -- very telling -- One More American Song.
That latter songs starts, "If I had a cinder block for every lie, I've told I could of built us a house, fine as any city block" and then slews into this, "John was a quiet boy in school, Johnny had fiery red hair, he went in the army like a lot of them do, and he got fucked up over there, and if you see him now he pushes a shopping cart in the parking lot".
So while there is a lot of looking back musically these songs peel back the plasters on America, and reveals the pains of the personal such as that great loss of innocence: "I was born in the Summer of Sam . . . a regular boy in the Reagan time, with my BB gun and satellite and boy did I want my MTV, everything was easy, so easy".
The sole lyrics of the melancholy but beautiful soundscape of Lose Myself are "it makes me want to lose myself".
A touch of Wilco's quieter side with soul-searing lyrics, seductive melodies at that intersection of soulful country and folk-pop, and a voice which pulls you in gently. Quite some combination, and unexpected given the Felice Brothers' frayed-edge approach.
Highly recommended.