Graham Reid | | <1 min read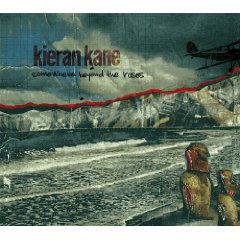 If nothing else, and there is a lot of "else" here, the instrumentation on this new album by the Nashville singer-songwriter Kane would be pretty arresting: drums, electric guitar, banjo and baritone sax, the latter from Deanna Varragona who has played with Lambcop.
It makes for a sound which can be sprightly (the banjo) but also full of dark corners (that deep sax), and that complements Kane's songs (often chipper sounding) and lyrics (the more serious sides of life).
Aspects of Christianity, guilt, forgiveness and what Lucinda Williams calls "the dark Southern stuff" are everywhere here: sinners stalk these songs but also so does a sure sense of Self: "dead to the world, enough is enough, voice in my dreams said 'rise up', I took my power back".
Kane's obviously seen some weird stuff in his life, but he here keeps the lyrics spare and pointed, and the album is the stronger for it. And everywhere is that prowling sax, sometimes almost humorous in a yakkety-sax manner, but mostly casting shadows in the corners.