Graham Reid | | <1 min read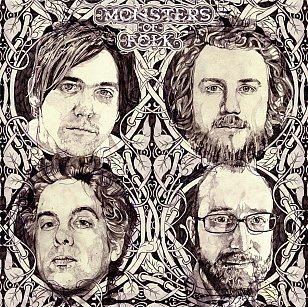 Given who these people are -- Conor Oberst aka Bright Eyes, M Ward, and Jim James of My Morning Jacket (aka Yim Yames) -- you might be forgiven for thinking this is some kind of neo-folk meeting on the mountain top, or possibly a younger, more serious and sprightly version of the Traveling Wilburys.
But in the hands of producer -- and fourth Monster -- Mike Mogis (Bright Eyes, Jenny Lewis) this is something much more ambitious: this is a seriously polished pop-rock album (Whole Lotta Losin', the slide-driven The Right Place which is pure country-pop and Losin' Yo Head all sound alt.radio-directed) with just a little po-faced folk earnestness scattered around. The opener, a spiritually inclined and plaintive appeal to the deity on Dear God, could have come from a mid-period George Harrison album, and Temazcal is a similarly inclined searching, folk-hymnal-styled piece.
There is a humour (M Ward's hand-clap Baby Boomer), Blood on the Tracks-urgency (Man Named Truth), some very astute folktronica and . . . actually a little bit of everything somewhere.
As with the Wilburys however the voices mesh neatly (even better actually) and this is no knock-off over the weekend when the protagonists had some downtime.
This is smart, jaunty (mostly), pretty good fun in places and chock full of good songs. Generous too: 15 songs.
Good one, should be really popular when these summer days start firming up.