Graham Reid | | 1 min read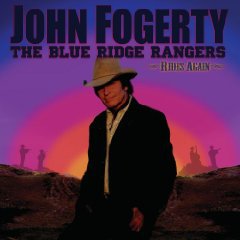 The odd thing about hearing the great Creedence Clearwater Revival on the recently released Woodstock set was that they sounded exactly like themselves: that's what happens when you keep your music simple and sharp, and you have a voice as distinctive as John Fogerty's up front.
Fogerty is still out there playing Creedence songs and new material (and sounding damn good at it) but here he reverts to another persona from his early solo career when he refused to play Creedence songs (for legal and personal reasons) and in '73 hooked up with some friends to play Fifties country by the likes of Hank Williams, Jimmie Rodgers and Merle Haggard.
Now some 36 years later -- which rather beats Elton's 31 year's later sequel to Captain Fantastic and the Brown Dirt Cowboy -- comes a poke at the same, laid back and musically reflective project.
Here top drawer players like Buddy Miller, Greg Leisz, Kenny Aronoff and others -- plus guests Don Henley and Tim Schmidt from the Eagles on Rick Nelson's Garden Party, and Springsteen on the Everly Brothers' When Will I Be Loved -- get alongside Fogerty for a collection of songs that reach back to Buck Owens and across to John Prine (Paradise) and John Denver (Back Home Again).
As is typical of such projects these days, it was all done quickly (a week for the basic tracks) and there is a comfortable-slippers country feel to the whole thing.
Not an essential Fogerty album, but unforced, easy on the ear -- and it sure is nice to hear songs like Rick Nelson's knowing Garden Party, Ray Prices' I'll Be There and Heaven's Just a Sin Away back in the foreground.
And great steel guitar (Leisz) and fiddle (Jason Mowery) everywhere.