Graham Reid | | 1 min read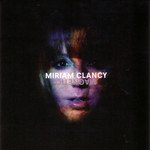 Elsewhere is pleased to say it discovered the gifts of Miriam Clancy very early in the piece and hailed her debut album Lucky One of 2006 as one of the best of that year. At Elsewhere there is also an interview with Miriam done in advance of that album.
Since then she has toured to much acclaim, took time out to have a baby, and now is back with this new album -- and a lot has changed.
Where that debut was sometimes spare and firmly in the territory of singer-songwriter, this album is much more layered (musically and lyrically) and comes with some haunting sonic settings which support the greater depths she now explores.
Clancy still writes a crisp melody and hook (You Ain't The Worst Mistake I've Made) and there's a track here entitled Join the Chorus (which you do, despite its slightly psychedelic feel).
But from the moody opener The Best which increasingly soars over rapid percussion and throbbing bass, through Southern Cross with its melodic hints at Lennon's War is Over in the chorus, the low mood of Only Lonely One ("a sentimental fool when it comes to you") and the stately title track to the closing ballad My Heart is a Traitor ("beating for you") this is an exceptional album.
The outstanding Ghost Town sketches a story of suburban failure through stark images: "around here we don't own homes, we got dope and a Valiant Charger . . . around here you've got a permanent cold, the neighbour's tinny put your life on hold".
This is as an astute piece of observational writing as would come from our most acclaimed poets (if they dared venture into this territory), and here the whispered ennui and stark setting -- with Warren Maxwell on backing vocals -- elevates it into the ranks of one of this country's finest pieces of songwriting.
Clancy has has upped the stakes for herself on many fronts with Magnetic -- there is a string section in a couple of places, unusual instruments from the Whittaker's musical museum on Waiheke, a roll call of excellent musicians including guitarist Dan Sperber, Dominic Blazer (on Hammond) and others, and songwriting that is as strong and sensitive as it is emotionally gripping.
All that and some great folk-pop confessional songs like Baby Blues.
Exceptional.