Graham Reid | | 1 min read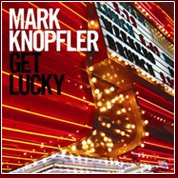 For man who made his reputation with mercurial guitar work and not his rather undistinguished voice, former Dire Straits frontman Knopfler (profiled here) takes a real chance on this solo outing: there's barely a guitar lick in the first two songs and the album opens in a distinctly Celtic mood with fiddles and flutes, then steps in with some soulful balladry.

With some songs which are loosely biographical account of itinerant characters he admired as a kid, and others which are salutes to friends and fellow travellers, Knopfler here puts the emphasis on understated storytelling which stumbles when the music is mundane (the bluesy Can't Beat the House where that guitar steps up briefly) or drags down his observations with their maudlin and melancholy pace (Before Gas and TV, Cleaning My Gun only salvaged by his six-string signature).

Elsewhere there's a thoughtful tribute to his uncle who died in World War Two (Remembrance Day); original Straits fans need only check in for So Far From The Clyde about the death of the shipyards and the lives that went with it; the Sting-like ballad Piper to the End is for those who liked his soundtrack to Local Hero; and the title track is too slight to memorable.

Out of the roots music he has always favoured -- Celtic to Americana, folk to blues -- Knopfler has pulled off only a partial victory. But the real surprises are the gorgeous, string-embellished ballad Monteleone (one of those oddly European melodies at once familiar and yet fresh) and the lovely Hard Shoulder which might have graced a mid-period Van Morrison album.

Like the casino image the album cover evokes, there are winners and losers here, depending on where you land.