Graham Reid | | 1 min read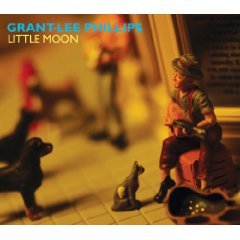 Phillips -- formerly frontman for the LA alt-rock/indie-pop outfit Grant Lee Buffalo in the 90s -- may never release a solo album quite as exceptional as his Mobilize of 2001.

But after the country-folk of Virginia Creeper of 04, the 06 covers album Nineteeneighties (you always ask, "Why?" of such projects) and Strangelet of two years ago which was excellent but disappeared fast, this album finds him on top form.

Phillips' voice is engaging, powerful or delicate by turns, and emotional; his songs bristle with rock tendencies but have a gripping pop quality; and lyrically he can drag you in with a cryptic line or unexpected image.

As a singer of sensitive, intelligent ballads, Phillips is in rare company alongside Bowie (whom he occasionally resembles) and here the gorgeous lullaby-like title track and reflective Older Now ("the longer you live the softer you get, whether you like it or not") on piano with a string quartet capture him at his best.

He kicks off with the upbeat Good Morning Happiness (neither ironic nor cynical) but later bristles about these troubled time on It Ain't The Same Old Cold War Harry, and on the edgy and urgent Strangest Thing alludes to assassins and the way hope can hide behind walls.

But mostly Phillips is in a positive mood (Seal It With a Kiss, Buried Treasure, the jaunty music hall-styled The Sun Shines on Jupiter with honky tonk piano) and the album is an object lesson in classic and classy song writing.

It's often said misery makes a better muse than happiness.

Phillips, married and with a young daughter he celebrates here in the gentle Violet, proves that needn't be the case.