Graham Reid | | 1 min read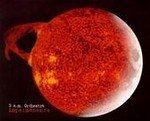 You'd be wise to put aside any preconceptions of what this music might sound like if you simply guessed from the band's name (dark, slow, ambient?), because David Kelley who is the mainman here aims (with a lot of help from his friends) to be nothing less than Arcade Fire with hints of mid-period Radiohead.
This is dramatic music full of intense moods -- and mood shifts -- which pulls together acoustic and electronic, strings and electric guitars. In all that it is smart, and the chosen instrumentation remains in service of the music at all times. That's the good news for modern man, we might say.
Where this falls apart for me is in the anxious lyrics which often have quasi-religious (or some lapsed faith) intent: "gather around me, soon I will be his prophet of love"; The Old Church; "let me testify to your sacred singing"; "a prayer that no one heard" and so on.
The odd archaism ("purge thy seed and move along") doesn't exactly help either, nor does the condemnatory and redemptive tone of Reflection: "if you find yourself running through fields chasing mythical characters thought to be real, there's no shame in calling my name if you want out . . ."
Nothing wrong with religious imagery per se (jeez U2 built a career out of it) but here the sheer deadly earnestness of it weighs down an album which, musically, often takes flight. And Kelley has the vocal range and musical vision to carry this off.
This album came out in 2006 I believe -- it is re-presented now because they are playing some gigs in Auckland in October to support it -- and I do wonder if Kelley has got out of his system some of these deeply personal reflections and slightly messianic thoughts ("the leper at my feet . . . I'll become Christ") and has maybe embraced a bigger and slightly more forgiving ethic.
Still, this is the only album I have ever heard which slips in "soteriology" (salvation through Christ, since you ask) into a lyric and gets away with it.
A qualified success.