Graham Reid | | 1 min read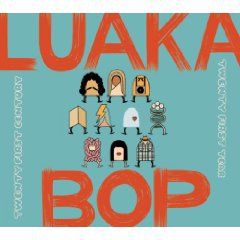 Luaka Bop was the label started by David Byrne in the late Eighties in his first years out of Talking Heads. The idea was for him to record (or re-release) artists who took his fancy and by this time Byrne had embraced Afrobeat and was a pre-Buena Vista supporter of Cuban music, South American sounds and alt.Americana.
Luaka Bop was by inclination a "world music" label although Byrne just liked to say it was as if you had a free-format radio station in your head.
The label quickly picked up an impressive roster: it brought the great Tom Ze and Shuggie Otis back into international attention; signed Cornershop and Zap Mama; gave a career to the Southern storyteller and utterly unique Jim White; released albums by the reformed Os Mutantes and Nouvelle Vague; got funky and free . . .
Byrne gave up his close involvement when the label was dropped by Virgin a few years ago, but this collection of 15 diverse but quite terrific songs offers a synopsis or snapshot of what the label has been about.
So here are songs by Otis, Byrne, Marcio Local, Afrobeat from Moussa Doumbia, sexy funk by Los Amigos Invisibles, Nouvelle Vague with a gently reggaefied treatment of Heart of Glass, Tom Ze, wah-wah pedals and fiery percussion . . .
As Byrne said, "Luaka Bop tries to look at music without prejudice, without saying, 'This belongs in this category and this belongs there'. We like to throw things together that are going to be a little confusing for some people, but that's the way we hear."
Mission accomplished.