Graham Reid | | <1 min read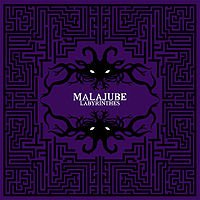 Elsewhere is certainly not immune to charms of Canada: we have acknowledged Arcade Fire, the collective Broken Social Scene, Patrick Watson, the challenge of vocal contortionist Tagaq and others (as well as watching the Anvil doco with tightening sphincter, hailing the droll TV comedy Corner Gas, and delighting in the landscape and people).
But not a lot of Canadian music gets to the far end of the world.
Here then is the French-speaking alt.rock outfit Malajube, now onto their third album, who stake a claim in the Arcade Fire/grand noise camp and pull a thread of psychedelic pomp into the mix also.
Aside from a few tracks (the swirling Casablanca, the driving then dreamy 333, the prog of Heresie) there isn't a lot here to get excited about however, especialy given that the vocals seem some distance away.
Doubtless -- given their firepower -- they one to see live.
And the chances of that happening would be . . .?