Graham Reid | | 1 min read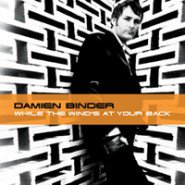 In a recent interview Greg Johnson told me that after almost seven years in Los Angeles slugging it out writing, playing and hustling he'd made the conscious decision to leave the live work behind and concentrate on being a songwriter. And working with sympathetic others of a similar mindset.
Lord knows, we need more good songs.
Damien Binder is another former Aucklander like Johnson who lives overseas (in his case Sydney) and has a way with a melody and lyric. Binder is however less acknowledged than Greg, through no great fault of his own.
His track record is impeccable: he played in bands in New Zealand (notably Second Child); was an APRA Silver Scroll finalist in 2003; did a showcase at SXSW in Austin; supported Marianne Faithfull and Ani De Franco (tough crowds both), and David Gray; has done solo albums and appeared on compilations; and musical reference points might be the poprock/alt.country axis of Ryan Adams, Pete Yorn, Gary Louris/Jayhawks and (lesserly so, I think) Neil Finn.
That said Binder has his own voice and a post-pop/songwriter style.
If this album lacks the immediate standout single (although I'd expect to hear Breathing, Too Late and even the quaintly "Brit-psychedelic/Beach Boys '66" Take Me Under on radio) Binder certainly hasn't betrayed his ability to pull out a memorable hook, an ascending/descending vocal line imbued with heartfelt melancholy, and songs propelled by strong power-pop tendencies.
There is a mature, reflective quality in these lyrics -- as with us all, he isn't getting any younger I guess -- and the man (who sometimes co-writes here, a mark of inclusive maturity as with Greg Johnson) crafts an economic lyric, sometimes with an amusingly romantic and teen-adult twist: "Retreating from the city, to a magic spot near the waves, it's somewhere undiscovered and we can fully misbehave . . . away from the distractions, laying down on a blanket . . ."
Really Want sounds like his stab at a radio-pop song (it sorta works) but seems rather lightweight and somewhat beneath him in the fine company of the other -- and appreciably better -- songs here.
So if you hear Really Want on radio (as you should, he writes pop songs), just know there is much better on this emotionally sound, lyrically crafted and sensitively produced album.
Damien Binder is back in New Zealand for shows in late '09 (dates here) to support this album.
Good.
So he should be -- and the evidence here is that he should be supported in return.