Graham Reid | | 1 min read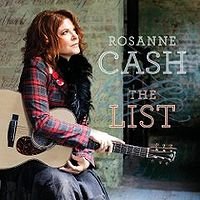 Of all the songs Johnny Cash recorded in his final years the most moving was September When It Comes on his daughter Rosanne's album Rules of Travel: "I cannot move a mountain now," he croaked. It brought tears to the eye.

Rosanne Cash has had an erratic career: her first albums were excellent then things went wobbly; she stopped touring when she married Rodney Crowell with whom she recorded (they later divorced which lead to her acclaimed album The Wheel which examined the separation in emotional detail) and she has always been admired by her peers.

She also has a way of bringing new life to old songs and this is a collection of covers taken from a list of 100 great country songs her father gave her when she was 18 to wean her off a Beatles and California-pop obsession.

It finds her in powerful voice again after brain surgery two years ago and the songs roam from traditional ballads (Motherless Child), and bluesy folk on Hank Williams' I'm Movin' On, to Dylan's Girl from the North Country (which Johnny sang with Bob) and the much covered ballad 500 Miles Away From Home, here given a vaguely Celtic country-rock feel.

Her husband John Levanthal -- producer, arranger and guitarist -- keeps the focus on the song and the arrangements are often lean, allowing her voice to penetrate or his guitar to slide across the foreground.

Elvis Costello is a bit of "usual suspect" as a guest these days, but here he keeps his quaver to a minimum on the guitar twang of Heartaches by the Number; and Springsteen (on the country-pop hit Sea of Heartbreak), Wilco's Jeff Tweedy (Long Black Veil) and Rufus Wainwright (on a rather too-embellished treatment of Merle Haggard's Silver Wings) are more like background vocalists despite billing which suggests duets.

And that's a good thing because Cash deserves to be the centre of attention here.

Fine songs delivered by a torch bearer. You hope it might just be Volume One.