Graham Reid | | 1 min read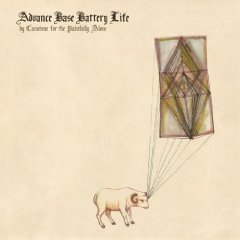 When the superbly named CFTPA (Owen Ashworth from Chicago) played before a couple of dozen in Auckland a few years back he was utterly beguiling: a small selection of lo-fi keyboards; a voice soaked in melancholy; and pointed songs which had a bed-sit consciousness without moping or self-pitying.

His 06 album Etiquette was chock full of poetic miniatures, but this collection of singles, oddball covers (Missy Elliott's Hot Boyz, Born in the USA, Streets of Philadelphia, Graceland) and rarities mostly pre-dates it and fewer of the songs possess the same sense of refinement and almost haiku-like narratives.

That said, it's hard to deny the intimate, emotional power of songs The Only Way to Cry (buy every seat in the cinema and cry alone), lyrics about lost lovers and distant family, an eerie sound piece recorded in hospital ward and so on. Quite moving, and more for the wilfully cheap sound of Casiotone keyboards.

Because of his narrative style -- suggestions of stories, he sketches in the barest details -- there is something of Tom Waits about Ashworth and you sense that as he broadens his musical range (as did on the Vs Children album earlier this year) his is a career to follow.

With just a few friends -- vocalist Jenn Herbinson has an equally fragile and hurt tone -- Ashworth creates small but identifiable worlds and peoples them with characters your heart goes out to.

Being a compilation this is inevitably patchy, but the best is as good as lo-fi, heartbreaking but often droll, pop music gets.