Graham Reid | | 1 min read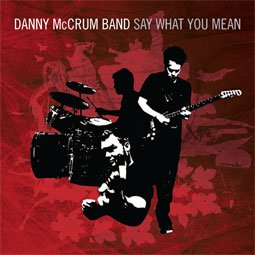 This bristling, tight, and emotionally taut album by McCrum and his Auckland band is a real step up from their already impressive debut Awake and Restless which found much favour at Elsewhere.
This time out everything from the energy levels to the songwriting has been taken up a notch or two, there is a sense of real urgency in these rocking songs (some of which have a terrific and understated guitar-funk undercurrent, eg Cold Outside) and these guys are playing like their lives depended on it.
It seems they are a three-piece now (with former guitarist Ben Jurisich still credited but not in bold type) and that has allowed McCrum to really step up with some incendiary guitar work.
This is not just a snapping and electrifying blues-rock album (it is that too) because they bring some other matters into play (the bass-driven Phone Call to the Living recalls Living Colour) and as much as they can sky-scale, they also cut things right back to create impressive dynamics (Harrison with its pared back verses, gear change into blazing electric, jazzy solo and sitar backdrop by Jurisich).
Songs like the fluid ballad All of You and discreetly Pasifika-influenced After the World, the hard hit acoustic on I Got A Question and Cold Chisel-like Over Now give an idea of the breadth this band is capable of.
But mostly there is life-threatening energy (and lyrical anger in places) at work here and with these individually distinctive and crafted songs the Danny McCrum Band have put all other bar-rocking, room-shaking bluesy rock bands on notice.
Mighty, mighty fine.