Graham Reid | | <1 min read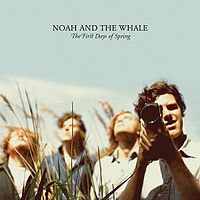 Beauty is not a quality that popular music (ie pop, rock, r'n'b, indie-rock or whatever) places much store in: yet from the Velvet Underground through Mazzy Star and the early Cowboy Junkies to the Fleet Foxes, or from Eno to the landscape of guitars in Explosions in the Sky, there has been beauty aplenty.
Beauty need not be sentimental or cringe-inducing.
So when a record company announces their band (in this case this London quartet) will release "the most beautiful record of the year" the stakes are either very high or the claim is somewhat absurd.
This might more correctly be considered the separation album of the year as it charts within a documentary arc (there is an accompanying film with early copies apparently) a relationship breakdown which is told through aching ballads, barely whispered and world weary vocals (think Bon Iver, Bill Callahan, Bonnie Prince Billy) and is in places given gentle orchestration or sonic ambience (think Richard Hawley).
This is a concept album (in the best possible meaning of the phrase) and also has two sections entitled Instrumental I and Instrumental II.
There are some marvelously evocative songs here (the cello and horn-coloured My Broken Heart with its repeated line "I'll be lonely") and yes, there is beauty -- and sadness -- here.
But as much as anything else it is in the elevating, almost filmic music.