Graham Reid | | 1 min read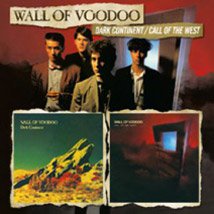 Stan Ridgway, frontman for Wall of Voodoo, was one of the smartest, story-telling songwriters -- and nervously energetic singers -- to emerge in the wake of American new wave in the early Eighties.
Sadly most people might only know them for their terrific single Mexican Radio and relegate them to that one-hit-wonder category reserved for bands which turned Japanese (the Vapors) or sang of life in a northern town (the unfairly ignored Dream Academy).
After he quit Wall of Voodoo in '83 (they carried on without him) Ridgway had an equally minor but catchy solo hit in '86 with Camouflage (with an eye-engaging video in the MTV age), and again it was a song with a strong sense of narrative with Ridgway's jerky and anxious voice up front.
Ridgway had been inspired by Ennio Morricone soundtracks as much as the emerging new wave scene when he and some fellow musicians in Los Angeles adopted the name Wall of Voodoo (cf Phil Spector's "wall of sound") in the late Seventies.
With snappy pop economy which was a hallmark of new wave, the idea of creating sonically evocative stories, the influence of spaghetti westerns, sharp country-rock and Johnny Cash (they covered Ring of Fire on their debut EP), they launched their album career with Dark Continent which became a critical favourite although it didn't give up any hits.
With its jerky and staccato vocals from Ridgway it also recalled the more pop side of Pere Ubu or Devo (they too used synths) and Ridgway (an amusing if dry man when I met him years later) telling his stories about getting bitten by tsetse fly and so on. He wrote songs with memorable, if slightly odd, lyrical hooks.
They weren't averse to exploring the sonic effect of kitchen utensils as much as lonely harmonica.
Their second album Call of the West sprung the hit Mexican Radio which recalled those days in the Fifties when rock'n'roll by the likes of Wolfman Jack was beamed across the Southern states from rebel radio stations across the border. The song had a nostalgic quality offset by its sense of rock'n'roll urgency. It spoke of the mystery and exoticism of rock'n'roll at a time when audiences were rediscovering the roots of the music after the prog-rock years.
Wall of Voodoo with Ridgway only recorded two albums (these on this Raven compilation, typically well annotated) and he quit citing drug problems in the band.
His solo career is worth checking out, but Wall of Voodoo were much more than a one-hit band as these strange, gripping, often disturbing and cinema-noir songs attest.
The title track of Call of the West unravels like a chilling film written by Cormac McCarthy (The Road, No Country For Old Men) or Larry McMurtry.