Graham Reid | | 1 min read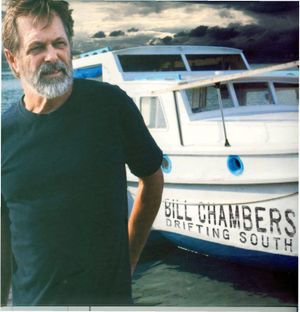 Bill Chambers -- quite apart from being the father of singer-songwriter Kasey and producer Nash -- is one of Australia's great singer-songwriters whose work just seems to be getting deeper and more resonant.
He is suitably road-grizzled these days and his work (just a reference point) sits somewhere between Paul Kelly, Kris Kristofferson and Greg Brown. Here he sings of "deisel and driftwood', disappearing taillights as "Townes is singing of Lefty", Magnolia wind (by Guy Clark), Southend Rain, a lost-soul friend who was listening to Neil Young on the day he died ("there's no heart of gold in this world") and a Jesus on the dashboard.
You get the picture.
Kasey comes out from harmony singing for their excellent version of James McMurtry's Deckhand's Daughter, Jim Moginie of Midnight Oil is on guitars and Bill plays most things (various guitars, mandolin, harmonica) himself.
His accent may not have travelled far from Australia but these songs also refer to the great universal imagery of Americana (with a digression into Ireland on Dashboard Jesus written by Kasey's husband Shane Nicholson) -- yet images of the lost highway, wide open spaces, shorelines and fishing boats belong as much in the Big Country as they do in Texas.
Chambers' slightly weary vocals brings these lyrics to life (just as Guy Clark, Tom Russell and his other American peers do) and he also knows the value of kicking a little arse along the way (the swamp-rock of Drifting South).
Bill Chambers has lived the life and sings of it with conviction and credibility. He's a rare one --- and he plays in Auckland at the Thirsty Dog, Wednesday December 11.