Graham Reid | | 1 min read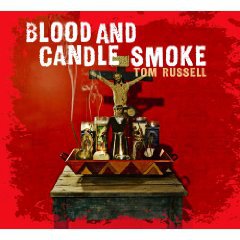 Tom Russell is a cinematic singer-songwriter whose storytelling is compelling, and whose whisky'n'grit vocals can take you to the heart of Tex-Mex territory.

The poet Lawrence Ferlinghetti said he was "Johnny Cash, [poet and novelist] Jim Harrison and [barfly writer] Charles Bukowski rolled into one".

Born and raised in Los Angeles, Russell spent time in Nigeria during the Biafran war of the late 60s. East of Woodstock, West of Vietnam which opens this strong album is about the juju magic he discovered there while his peers were in those places of the title.

The other side of that experience is the oddly upbeat autobiographical Criminology ("I had a gun pointed at my head on several occasions") but -- typical of Russell -- the story changes (the death of Picasso, grizzly bears walking down a street in Canada) then loops back.

He sings of the spirit of Nina Simone ("the darkest of ravens"), how Americans name rivers after Indian tribes out of guilt, of ghosts and children in Guadalupe, and "two Apache kids in a stolen car, navigating by a falling star".

Poetry and personal revelation set to edgy Americana from his small band (Gretchen Peters, members of Calexico), and lyrics peppered with dark Catholic imagery.

Despite a more faltering voice, Russell remains a rare one.