Graham Reid | | 1 min read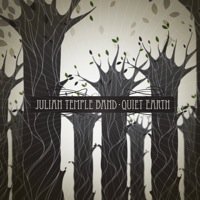 Noticed how in action movies so few actors speak these days? They tend use an amplified whisper which has the effect of raising tension -- even when very little is happening.
San Francisco-born, Dunedin-based singer-songwriter Temple is like that: his husky whisper is everywhere on this acoustic-driven, sometimes folk/sometimes funk, occasionally bluesy album. It raises tension where sometimes there isn't actually any.
It is certainly effective when deployed sparingly but over the long haul -- 12 tracks and it is in most of them -- can be wearing and lends a false gravitas to many of these songs, some of which seem to also have improvised lyrics (and he's no Jeff Buckley in that regard).
This is a pity because there's a lot of other good stuff going on: they are tight trio; Temple plays some superb guitar solos, fills and vamps; and he writes some strong songs (the title track, the brooding and claustrophobic Killing in My Head especially).
The Flight of the Conchords have spoiled songs like the Ben Harper-funk of Pop Hits for us (just like the Rutles meant you couldn't take a McCartney piano ballad seriously again), and the chunky Speedy might be crowd pleaser live but doesn't really stand up as an album track, least of all at the mid-point.
And there is too much here which sounds like ideas for songs rather than anything refined and reflected upon.
I have no doubt these guys are quite something live, but the vamping riffery here and that increasingly annoying voice (like Tom Waits without the hard won life experiences) make this a challenge on the stereo.