Graham Reid | | 1 min read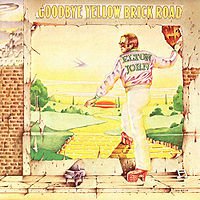 Elton is like a kindly old uncle these days, giving big ups to Ryan Adams, throwing post-Oscar parties, behaving himself, turning up on Disney soundtracks, or rewriting one of his prettiest tunes for the funeral of a slightly wacky royal.
And he got married (again, to a man this time though).
It's hard to remember that he was, before he went pear-shaped and crazy during the 80s churning out shocking albums, quite something of a rocker.
Young folk might be surprised to hear of him blasting through Burn Down the Mission, insisting that Saturday night was alright for fighting, and singing about the death of a screwed-up 16-year-old lesbian.
And Elton did it with a great disadvantage. He wasn't a stage-prowling singer/guitarist, but trapped behind a piano. To his great credit (and he did many shameful things but this wasn't one of them) he never got one of those keyboards you hang around your neck, like that guy in Pseudo Echo.
Nope, he just stuck with the piano - and dressed in chicken suit, like the Statue of Liberty, Mae West or the Queen. He started with Dame Edna glasses and took them to their illogical conclusion in costumes to match. Whadda wild'n'crazy guy.
Lest we forget there was great music along the way, and little of it as consistent or better than this double album from late '73 which sprung radio hits (Saturday Night's Alright for Fighting, the title track, Candle in the Wind, the unusual piano vamp of the faux-live Bennie and the Jets) and other songs which found their way into people's consciousness like the elaborate Funeral for a Friend/Love Lies Bleeding, the salute to 30s gangsters on Ballad of Danny Bailey, and All the Young Girls Love Alice.
There are few double albums in rock which can be considered essential (and during this period they were not uncommon) but this -- alongside Genesis' concept album The Lamb Lies Down on Broadway of the following year -- is one of them.
Even now these songs stand up, not just as of their period, but transcending them for their diversity and directness.
This reissue -- with all the customary studio polishing, booklet essay and bonus tracks -- also comes with a third disc, a 50-minute movie on the making of the album with archival footage, interviews with Elton and lyricist Bernie Taupin and the musicians, and comments from critics and famous fans.
So instead of telling the kids the Elton story by the fireside just bang this in the CD and DVD player.
Only curmudgeons or revisionists would deny this is a classic.