Graham Reid | | 2 min read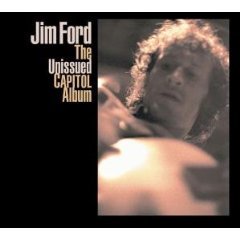 As Nick Lowe recently observed, he's supposed to be an expert on American music but there are still any number of artists and albums being unearthed and brought into the light again.
Ford might not exactly be in that category -- he was a major influence on Lowe and his stuff has been floating around among cognoscenti for a couple of years -- but these two albums might give him his time in the sun again.
Ford, who died in late '07 at age 66, was one of those mythical characters: one album (Harlan County in '69) and then gone.
In '06 he was tracked down to a trailer park in California and some compilation albums of his early Seventies material subsequently appeared. But let's be honest, he hardly made a ripple in your world, right?
Here then are two albums which might however. Their very titles suggest he might not have been the easiest of characters for a record company (or two) to work with: he seemed to piss off Capitol in '70 so that album was shelved, and he repeated the trick with Paramount three years later.
Had they appeared however Ford would have been acclaimed in the same manner as Joe South, the Muscle Shoals crew, Spooner Oldham and Dan Penn and others who brought black soul into country music and/or vice versa.
At this distance they have dated a little (The Sounds of Our Time on the Capitol Album was politically pointed in its day, for example) but you cannot help but hear a distinctive voice, socially conscious songwriter and a musical magpie at work. He effortless assimilates Stax soul and Memphis blues alongside hints of swamp rock and heartfelt country.
You can hear why he counted Sly Stone among his friends, and also why Bobby Womack and Aretha Franklin recorded his songs. He was a white guy who wrote black, soulful music -- and with the success of the Hacienda Brothers, Drive-By Truckers and Jim White who sound like his musical offspring maybe Jim Ford is ripe for a rediscovery.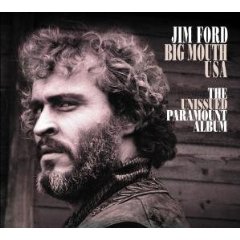 Of the two albums, Big Mouth USA: The Unissued Paramount Album might be the best first stop: there's a country gospel twist on He Turns My Radio On (like a country Van Morrison too); he deploys some dirty wah-wah funk on Mixed Green (sort of Polk Salad Annie territory, with fiddle); Rising Sign is closer to the voodoo-funk of early Dr John with a sliver of proto-Pull Up to the Bumper in the mix; and he goes Burt Bacharach/Randy Newman pop on I Call Her Baby.
And much more.
It's a pity the musicians aren't credited anywhere, they sound like the cream of session players.
Jim Ford was a true -- if difficult -- talent, and clearly a man who was the sum of many fine influences.
Bobby Womack said, "Jim Ford was a beautiful cat, one of the most creative people that I've ever met -- and I've been around a lot of people with a lot of talent."