Graham Reid | | 1 min read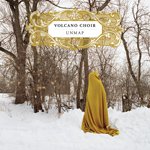 This album was on repeat play while I was at my desk and after a few times through I thought it one of those projects where people just make a interesting noise but haven't actually got a tune that is memorable.
It seemed like a very pleasant art school project by some probably very nice people who had listened to a bit of new folk from the likes of Fleet Foxes and Bon Iver, enjoyed creating sonic landscapes and . . .
And then third track really started to hook me: over a repeated figure which sounded like it had been lifted from an old album by minimalist Steve Reich, the gentle electronica and folk song started to seep in -- and then I spotted a chorus, and another hook. And I was hooked.
This was not an album to have playing while looking through some papers, but something to stop and take time with.
And then I discovered it is actually Justin Vernon (Bon Iver) and some experimental friends (known as Collections of Colonies of Bees apparently, as a name it'll never catch on) who pulled this together over a weekend in the country.
And it has a rural, spacious feel to it -- even though there are electronic keyboards.
Haunting and humming choral parts emerge and retreat, wind blows through the broken pane and the lace curtains move, water trickles and there is an intake of breath, beats come to the fore, pianos are hit gently, post-rock gets redefined yet again and close harmony vocals sweep you along.
Part folk, part electronica, all good.
A listening experience.