Graham Reid | | 1 min read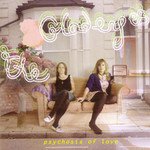 In a recent article for an art magazine I wrote about some of the work I had seen by young painters in Sydney: I noted there was a frequent and conspicuous retreat into whimsy which seemed an early admission of defeat, as if these young talents were abdicating from the demands of making any serious statement. It was as if cute of itself was enough and that it would be elevated into importance by curators and critics.
Influences from Asian culture (the Hello Kitty Generation has grown up?) were also scattered around. Ironic? Not really.
There's a lot of similar cuteness in pop music these days (with the customary hints of depth by notions of darkness, and of course "irony") and the recent Brunettes album Paper Dolls highlighted the problem of this particular cul de sac.
Much as I have tried to like this debut album by the Gladeyes (Jade Farley and Gwen Horcliffe plus various Brunette musicians and Lil' Chief artists) I find it deliberately cute, whimsical and coy -- and in many places willfully juvenile. Which might be ironic, of course.
Here are many songs of boy-girl stuff (I can imagine a 13-year old on the phone in her bedroom, crying) and the backing vocals in many places are a kids choir so as to underscore a certain naivety. Check the opener or The End of the World Because You Don't Love Me Anymore.
This is musically clever, there is no doubt about that: There He Goes is a Velvet Underground drone as if written and sweetened by a Brill Building songsmith (Carole King in her early years), and Shyness Will Get You Nowhere comes off as a contemporary riff on old Flying Nun (Look Blue Go Purple/ Bats) . . . but that just reinforces the idea that these people are smart however prefer that retreat into whimsy and cute.
The album title suggests this ain't aimed at tweenies either. But it sounds like it in places -- until a guitar scoures in or you can click to its many references to previous pop.
Pop music need not have any great import and I'm a real sucker for it: but this album with its wee girl voices (these are adults remember) are slightly artless lyrics (deliberate I am guessing) is so high on the sleeve-sucking cute factor (oh, giggling too) that it is clearly not made for me.
I pass . . . and will pass it on to a tweenie who has just started seeing a boy and mopes a lot.