Graham Reid | | 1 min read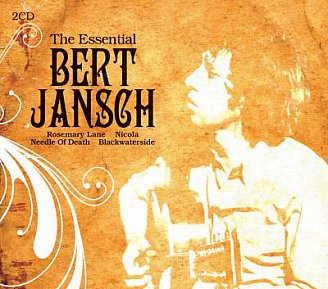 In the liner notes to this 26-track double CD collection Jansch says, "I only know how to play a guitar and write songs. I don't know anything else when it comes down to it."
The likes of Jimmy Page who was influenced by Jansch's acoustic folk style and fans such as Devendra Banhardt, Johnny Marr, Graham Coxon and dozens of others in the new folk movement (Fleet Foxes etc) would probably say that is more than enough from this sixtysomething Scot.
He was a founder of Pentangle who -- alongside Steeleye Span, Donovan, John Renbourn, Davey Graham, Fairport Convention and others -- were prime movers in the Anglofolk movement of the Sixties which in turn opened the door for the likes of Nick Drake.
With a style which incorporated finger-picking alongside jazz influences and traditional folk songs -- as well as his exceptional and increasingly inventive originals -- he has been so long established as to be accorded "legendary" status.
Not many can say they have played with Pete Doherty of Babyshambles and had their songs covered by Donovan (Do You Hear Me Now, included here in its '65 version), or had one of his pieces pinched wholesale by Led Zeppelin (his Blackwaterside song also here became their Black Mountain Side instrumental).
This collection is mostly drawn from his Sixties output and although he is still active, this is perhaps the period most of his current devotees look back to.
Old hands will know Jansch's work well enough and will have albums like Jack Orion, some Pentangle and his '79 outing Avocet in their collections (and maybe even his more recent Black Swan from '06).
But if he is another of those people you have just heard namechecked then this is as good a place as any to start.