Graham Reid | | 1 min read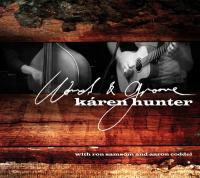 Those who have followed Auckland singer-songwriter Hunter's long career will confirm that she has progressively moved from a kind of alt.indie outsider status with albums such as The Private Life of Clowns ('98) and Inside Outside ('03) which bristled with ideas from rock, spoken word, jazz-blues and alt.folk to something closer to mainstream jazz cabaret and boho-Beat poetics on her '07 album Rubble.
This new album completes the transition in songs which have a sultry jazz-cabaret feel (over drum, bass and sometimes piano)and throw emphasis on her speak-sing lyrics and narratives.
It is a pity that the two least affecting tracks come first: the story of a Mercedes-driving man out to impress her in Pull Your Head In is weighed down by its cram of lyrics, many of which scan awkwardly and include the following mashed image; "You're so full of oysters there's no room for humble pie, I don't think you've really considered the consequences of your actions . . ."
The follow-up, an observation of a kind of Desperate Housewives scenario with a nod to lesbian lovers (A Kiss Without a Moustache) is another. "Met him on a Sunday, he was moving the lawn. He looked good, pretty brown skin and his rugby uniform. Only a boy, he could have missed the cues, lady with a head full of Poor Man's Blues" which then moves into something about the government there to pay . . .
The pity is that while these get a bit more traction over repeat plays (and are effectively delivered by the band and Hunter) there is much better which follows.
She reconfigures Hendrix's slippery Long Hot Summer Night as a nightclub steamer with horns, goes back to her older Little By Little which is now stretched out to an eight minute ballad dripping in small hours sensuality before embarking on a speak-sing poem of self-revelation, and later there is the delightful Proximity (over lovely bass work from Aaron Coddel).
The best here are the percussion-driven poetics of Wheelspin where she weaves her vocals around the simple melody; Purify which is a long exploration in Indo-jazz with a chantlike chorus, coiling flute (Roger Manins), spiritually-inclined vocals and lyrics; and the lovely country-blues (with slide) feel on the the elegantly understated Compromise.
Hunter has never shied away from the difficult and here she brings local imagery and place names into a kind of sophisticated New York nightclub jazz (one consequence is her accent seems to waver between American and antipodean quite a bit).
It's tough to pull off and while those two openers maybe initially off-putting for their heavy-handed wordiness, Hunter has staked out ground of her own and for at least two thirds of this album she succeeds on her own terms.
Those Rickie Lee Jones references of yesteryear no longer apply.