Graham Reid | | <1 min read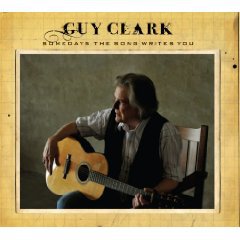 Now in his late 60s -- he turned 68 in November -- this great Texas singer-songwriter is sounding very weak'n'weary in these 10 co-writes and his cover of Townes Van Zandt's If I Needed You.
And that is its very strength.
Clark brings a melancholy reflectiveness or quiet gravitas to these lyrics and whether it be considering the mysteries of the songwriting process ("you can search for the way, you can curse, you can pray but the words have a way of their own") or a Waitsean ballad (Eamon, co-written with Rodney Crowell), you feel these stories and emotions have all be lived and hard won.
He sings a slightly unnerving story about finding one of his old guitars in a pawn shop, of the creative power in Hemingway's Whiskey ("if it was bad enough for him it's bad enough for me"), the lure and trap of the Hollywood Dream, and the love of a good woman.
And these sharp metaphors or narratives are delivered over simple arrangements for acoustic guitars, mandolin and a small rhythm section.
One of the best in a long career of outstanding music.