Graham Reid | | 1 min read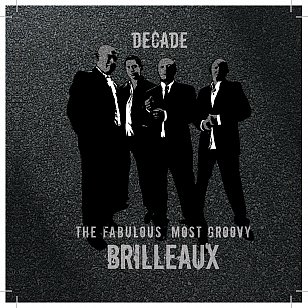 You -- well, I -- admire a rock'n'roll r'n'b band that names itself after the late lead singer of the British pub rock band Dr Feelgood whose Stupidity album from '76 is mandatory in any Essential Elsewhere collection.
And this four-piece who make their energetic pub-rock sound at jazz and blues festivals (and I am guessing excellent parties), don't stray too far from the Feelgood template: they even have an original entitled PhD in Stupidity ("inspired by a monumental act of blondness by an exceptionally beautiful acquaintance") and elsewhere fire off real Wilko Johnson guitar licks, have another song called I'm A Howling Wolf, cover the Rolling Stones' Live With Me in typical Brilleaux style, and yet another is nicked from Willie Dixon via the young Stones, I Just Wanna Make Love To You.
This is terrific party rock for the most part (they do pull back to give both you and them a breather on material like the brooding and soulful blues of I Wonder Why I Can't Get No Sleep with the ladeez on backing vocals and a gospel turn at the end) and there is plenty of honking harmonica, whisky-cured vocals and energy flaring out of the speakers.
You might not play it much at home in downtime (you might find you do in the car oddly enough, I did) but their real point seems to be as a live act.
If they are at a festival near me (they are in Whangarei this weekend) I wouldn't miss them for quids.
I like the logo on the back of the album too: "Proudly not taxpayer funded".
Making their own way in this wicked world, and offering a good noise for your party mood as they do it.