Graham Reid | | 1 min read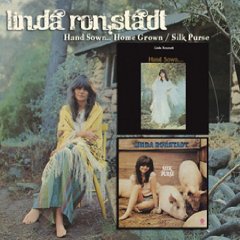 Long before she was a country-rock cover star and dating California governor Jerry Brown in the late Seventies, Linda Ronstadt was a singer struggling to find her forte.
Her albums with the Stone Poneys showed her folk-rock chops and their cover of Mike Nesmith's Different Drum gave them a hit but also signalled a solo career beckoning for Ronstadt.
Her first two solo albums from '69 and '70 -- here gathered on one disc by Raven Records, with good liner notes -- have long been out of print which has been a shame because they show an artist really finding her voice in what would become country-rock, and pulling material from a remarkably wide range of sources for Hand Sown . . .Home Grown: Bob Dylan (Baby You've Been on My Mind, I'll Be Your Baby Tonight), Randy Newman (Bet No One Hurt This Bad), Fred Neil (The Dolphins) and old time country (Silver Threads and Golden Needles, which she would pick up again in the early Seventies).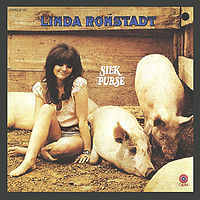 For Silk Purse (in that bizarre cover) she relocated to Nashville, worked with some top session players (Pete Wade, Charlie McCoy, Kenny Buttrey) and delivered an album which is clearly more country -- but with a twist: she brings her powerful voice and slightly brusque quality to the material and it has real kick.
But even here she was drawing in songs from not quite straight Nashville sources, such as He Darked the Sun By Gene Clark and Bernie Leadon of the Eagles, and the Goffin-King classic Will You Love Me Tomorrow?
By the time she passed through country rock and into a more pop style in the mid Eighties she wasn't unleashing her vocal power with quite the same frequency and although she has been dismissive of Silk PPurse (the cover!?) it is a fine album of nascent country-rock.
In fact while these may only appeal to those who preferred Ronstadt before the mid Seventies or in the past decade they are very welcome, if not quite classic, reissues.