Graham Reid | | 1 min read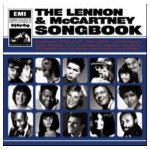 While there have been quite a number of such compilations in the past interest alights on this one in particular because it has been pulled together by EMI New Zealands in-house memoryman Bruce Ward who does a fine job on such collections -- and here writes the intelligent liner essay.
The Lennon and McCartney team were giving away hits in their early career until about late '65 and a few of those -- which they didn't record themselves -- turn up here: Nobody I Know and A World Without Love (by Peter and Gordon), From A Window (Billy J Kramer and the Dakotas) and Step Inside Love (Cilla Black).
Then there were the famous covers: Elton John with Lucy in the Sky, Joe Cocker's She Came in Through the Bathroom Window and With a Little Help From My Friends, Aretha on Eleanor Rigby, the Silkie with You've Got to Hide Your Love Away, Marmalade's version of Ob-La-Di Ob-La-Da, Fats Domino on Lady Madonna which sounds written for him . . .
And the lesser known ones: Cliff Bennett and the Rebel Rousers who had a decent hit with Got to Get You Into My Life which has been all but forgotten (but not by Ward), Sergio Mendes and Brazil '66 with The Fool on the Hill, Matt Monroe on Yesterday, the wicked Wilson Pickett with Hey Jude (Duane Allman on guitar) . . .
And the unusual and rare: Del Shannon doing From Me to You (the first artist to take a Lennon-McCartney cover onto the US charts), Cliff Richard with I Saw Her Standing There, the Mamas and the Papas with I Call Your Name . . .
And from the Lennon and McCartney solo years comes Brian Ferry (Lennon's Jealous Guy) and Phoebe Snow (McCartney's Every Night).
And more, among them comedian Bernard Cribbins' When I'm Sixty-Four and Peter Sellers' spoken word, mock-Shakespearean version of A Hard Day's Night.
There's a Lennon and McCartney song for every genre and all levels of talent.