Graham Reid | | 2 min read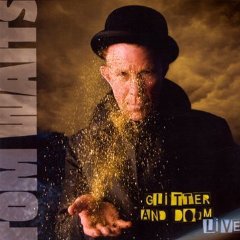 Barney Hoskyn's recent useful but flawed Waits biography Lowside of the Road ended with the writer going to see Tom Waits in concert on this brief tour which was widely acclaimed as the best of 2008.

Waits hadn't been out live in some while (11 years since he'd last appeared in the UK) and as a result his cachet had grown and expectation was high. And Waits -- ever the entertainer -- didn't disappoint in performances where he reworked some material, engaged in those quirky Thelonious Monk-like dances, even dipped right back to his early days for Tom Traubert's Blues for some sets, and between times told anecdotes, stories full of arcane information and non sequiters.
This double album pulled from that tour is one disc of songs and another of Tom Tales told along the way, and as always there are audiences where they think they are the show and Waits has to pull them into line with stories about going to the Spam Museum or suggesting to those bellowing out out things inaudibly that they "write it down and pass it forward".
"I read something today, one out of every 10 men is important. Then I realised I'd read it wrong, it was one out of every 10 men is impotent."
The Tom Tales is funny all right, and given you might not want an album punctuated by stories it makes sense to have them on a separate disc. But you yearn for the DVD where you can get the full picture of how these were integrated -- or otherwise -- into the set.
The 43 minute, 17 song album is where the real oil is even though none of those older songs appear, this is Waits after his reinvention and resurrection and if your Waits is more like Bone Machine than Heart of Saturday Night then you'll be well pleased. Here he thumps and grinds through that blues-noir cabaret style he has created in a "set" which includes Get Behind the Mule, Fannin Street, Goin' Out West, I'll Shoot the Moon . . .
This is dark and often menacing stuff dressed up with angular guitar (Omar Torez), stabbing sax (Sullivan Waits) and Waits singing in that deep and throaty voice which sometimes strays a little close to caricature or self-parody.
From madhouse sea shanty (Singapore) to menacing rural blues (Get Behind the Mule with harmonica), affecting ballads (Fannin Street) to off-centre funk (Such a Scream), transplanted Weimar cabaret (Live Circus) to dense rock'n'blues (Goin' Out West) and much more, Waits -- like Bob Dylan live these days -- draws any number of styles into his own voice and vision.
Waits, now 60, isn't an easy proposition for people who like a little fairydust or polish in their music and certainly Waits fans would perhaps have liked a double live of the music with the Tom Talk an add-on because there are so many great songs not included.
But Glitter and Doom is a fine addition to a growing catalogue, although my suspicion is that -- admired though it will be -- it won't be a Waits album many return too.
Except when they want to play some bizarre Tom Tales to friends.