Graham Reid | | 3 min read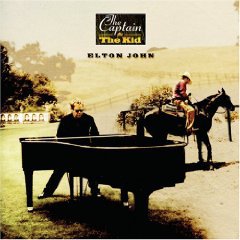 By an odd coincidence I recently bought a battered vinyl copy of Elton John's autobiographical 75 album Captain Fantastic and the Brown Dirt Cowboy. For some reason it had gone right past me and when I looked at the track listing it was hardly full of hit singles or even FM radio fodder.

The only title I recognised was Someone Saved My Life Tonight, but for $5 I figured it was worth checking out. It has proven a wise investment because this new Elton album -- he's back with Bernie -- is that album's sequel, a mere 31 years later.

In the intervening years Elton became the clown prince of overdressed stage shows, mistakenly toyed with disco, released a series of dire albums, enjoyed hit singles, had a nervous breakdown or two, clawed his way back, did the Lady Di song and The Lion King soundtrack, and from the mid 90s was rehabilitated as some sort of mentor and kindly uncle.

He's a shoulder to cry on for stars when their lives go haywire.

So Elton is happily-married Sir Elton these days and his recent music career has often seemed incidental to his parties, private and public life, and his Las Vegas merchandising outlet.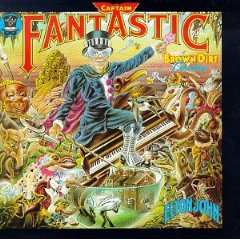 But this new album has enjoyed critical acclaim by those suggesting he is back on track musically, and all the better for working with Taupin again -- who has considerable material to continue the autobiographical thread begun on Captain Fantastic all those years/decades ago.

And indeed these frequently word-weighty songs trace Elton's life from the mid 70s Vietnam-era (Postcards From Richard Nixon) through his love for the excitingly permissive New York of Studio 54 days (Wouldn't Have You Any Other Way), his decline through addiction (the rather too jaunty And The House Fell Down), and the attrition of Aids and the death of his friend John Lennon (Blues Never Fade Away).

Then it's on to Old '67 in which he/Bernie reflect on the fact they are still here today despite it all -- and finally there's the affectionate title track about their long relationship.

Confusingly there are lyrics for two subsequent songs that aren't on the 10-track album: the first is the mature Elton addressing Thatcher's Britain and his excesses in Across The River Thames: "Good taste at times I've sometimes lacked, I won't deny the truth, I got dressed up as Donald Duck, making up for my repressed youth".

The final unsung song bring us up to date with Taupin's lyrics reflecting on the writing process ("songs are like lightning, when they strike you, you hang on every line") and what we must assume is Elton's voice observing, "it's been some trip but we'll just shrug and say, it's just my job, it's all I know, I hope we did okay".

There is a resignation to that unheard coda which unfortunately reminds you that the preceding songs have been a pre-conceived project rather than coming from the same place of inspiration which forged their seminal early work.

But while this vinyl-length album breaks little new musical ground it also finds Elton in excellent voice, notably in the anguished delivery of Blues Never Fade Away, and the country flavour of I Must Have Lost It On The Wind and the title track which is a style he'd always excelled in.

And while there are faint echoes of Tiny Dancer/Levon/and so on, there isn't A Hit Single here -- unless it's the dire ballad The Bridge which some programmers seem to have embraced.

Overall there's the sense that the conceit of the concept renewing that link back to Captain Fantastic has constrained both lyricist and singer. The references lock Elton in the past rather than pull him into the present.

But the past is where people probably prefer him, and this sounds like Sir Elton happy to be Old Familiar Elton again looking back in wonder and with some sense of relief at having survived it all.

And Elton obviously reinvigorated by his relationship with the man who gives him the words -- the often very many words here -- to consider the story of his extraordinary life.