Graham Reid | | 1 min read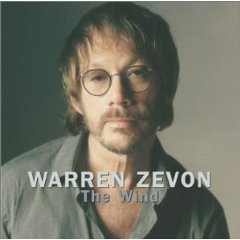 The late Warren Zevon was a self-destructive guy - throwing himself down stairs while in the grip of the demon drink was one of his things - but this Jekyll and Hyde of sunny California in the 80s, who wrote the lovely Hasten Down the Wind, could also pen, "He took little Susie to the Junior Prom, and he raped her and killed her, then he took her home. After 10 long years they let him out of the home, and he dug up her grave and built a cage with her bones. He's just an excitable boy."

Warren knew the dark stuff.

Which may or may not have prepared him for his final album The Wind, recorded when he knew he had inoperable lung cancer, which made his smoking skull logo even more apt, and featuring admiring luminaries such as Springsteen, Tom Petty, Jackson Browne, some Eagles and Emmylou Harris.

It isn't a celeb-heavy wake, Zevon's mordant wit is evidenced on the outlaw ballad opener: "Some days I feel like my shadow's casting me, some days the sun don't shine, sometimes I wonder what tomorrow's gonna bring when I think about my dirty life and times."

But the common thread is love, and ineffable regret at love lost or which went unexpressed. As expected the album is uneven: The rollicking Disorder in the House is a minor, one-take rocker with an equally off-kilter Petty and elevated only by Springsteen's blistering guitar.

The beautiful El Amor de Mi Vida is addressed to a former lover now lost to another, the slow swamp feel makes Prison Grove as good as anything he wrote, Rest of the Night is a sub-Springsteen Jersey bar-room stomp.

Zevon sounds frail, which means special resonance on She's Too Good For Me and the heartbreaking farewell of Please Stay. But years ago Numb as a Statue would have blazed harder. However, he manages a dry-eyed take on Dylan's Knockin' On Heaven's Door.

And only the hardest heart could be unmoved by Keep Me in Your Heart: "Sometimes when you're doing simple things around the house, maybe you'll think of me and smile. You know I'm tied to you like the buttons on your blouse, keep me in your heart for a while."