Graham Reid | | <1 min read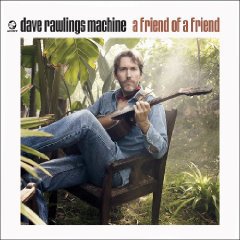 The quiet and often largely invisible power beside Gillian Welch, guitarist/singer-songwriter Rawlings here comes into the spotlight with a collection of folk-country and alt.folk-rock songs which would mostly not fit Welch's canon but here have an understated charm of their own.
They still possess some of that old time quality which has been a hallmark of his work with Welch but here (with references to televison and the contemporary world) much of this has elements of the early Band, Elton John's Tumbleweed Connection and Neil Young (he slips in Cortez the Killer as a coda to his version of Conor Oberst/Bright Eyes' Method Acting).
Lovely ballads bookend the album (it opens with Ruby which connects the present and the past); he co-writes with Ryan Adams on the sprightly fiddle-driven To Be Young (Is To be Sad, Is To Be High); has fun with Welch on the backporch downhome-style Sweet Tooth and How's About You; guests include Heartbreakers keyboard player Benmont Tench and Kevin Hayes; there's Jesse Fuller's Monkey and the Engineer; and the too-short nine-song set ends with a lovely string-enhanced ballad Bells of Harlem which has the same kind of easy feel as Dylan's most recent ballads on Modern Times and Together Through Life.
Far from just a side-project in downtime, this has the feel of a strong and independent career emergent.